As a world leader in air traffic control (ATC) technologies and solutions for Air Traffic Control (ATC) and airport management, Leonardo has long been involved in the development of an unmanned aircraft traffic management system for drones and a series of experiments with remotely piloted vehicles in the field of Advanced Air Mobility (AAM). With 'UrbanV', Aeroporti di Roma is engaged in designing and managing ground infrastructure for Advanced Air Mobility and is currently developing a network of vertiports for Rome, Venice and the Côte d'Azur and, as the first movers in this nascent sector, also globally.
The partnership reaffirms the two companies' commitment in this field and follows on from an agreement signed between Leonardo and AdR at the beginning of 2022 to develop innovative projects. One of these, which has with a particular focus on ground infrastructure development and air traffic control requirements, involves urban air mobility to facilitate the transition of AdR's airport assets into smart hubs. In particular, Leonardo and Aeroporti di Roma will explore suitable technological solutions and ground equipment to develop the new vertiports. At the same time, it will also test new operational concepts to accelerate the technological, regulatory and procedural maturation processes, with the objective of moving from experimentation to service provision in the future.
Remotely piloted aircraft are the industry's new business frontier.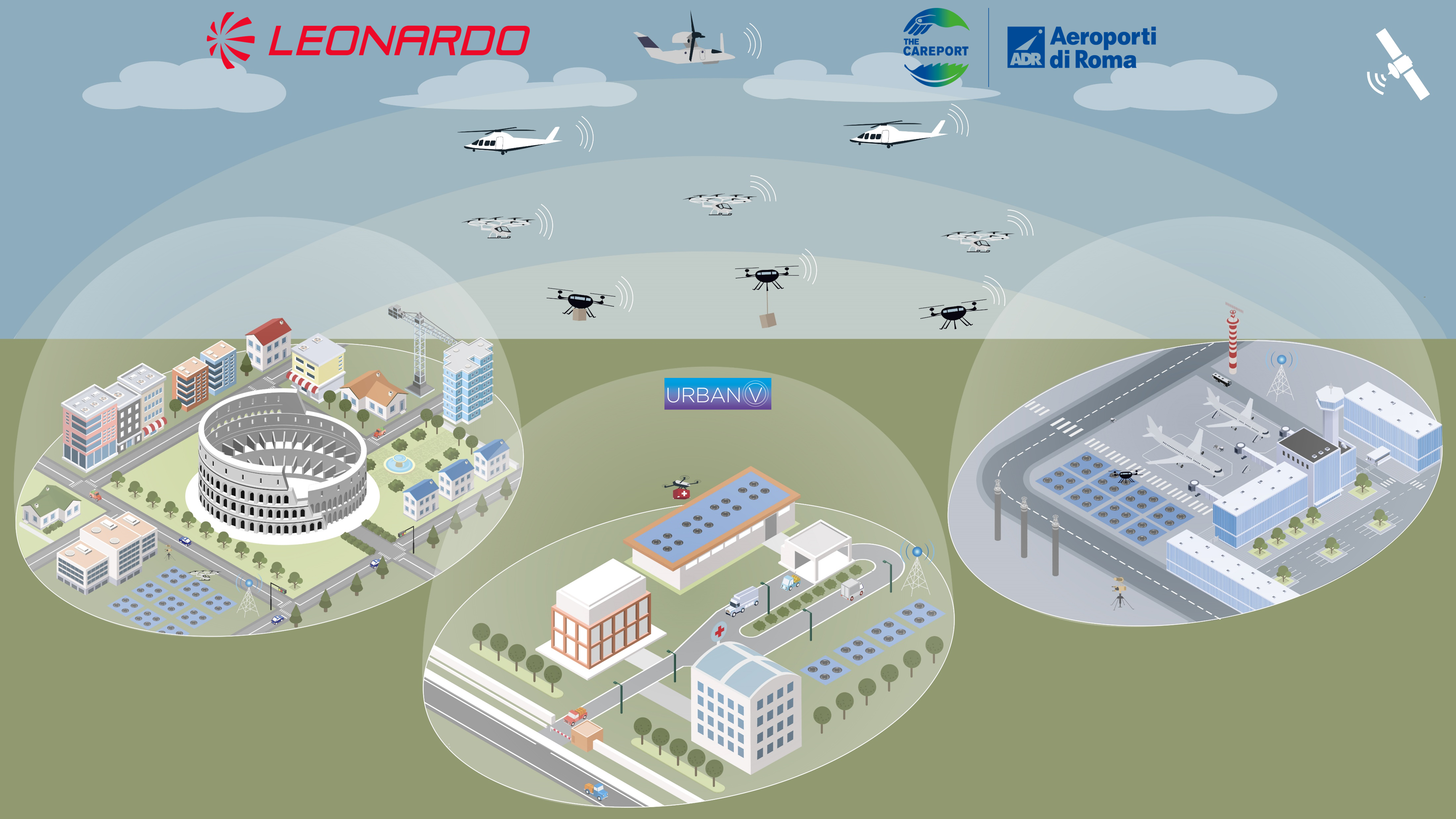 Leonardo has developed technologies and applications in every field of the sector, with significant investments in platforms, sensors, communications, control systems, and technologies, for managing manned and unmanned air traffic control.
Ivan Bassato, Chief Aviation Officer of Aeroporti di Roma explained: "AdR is actively working on designing the ground facilities – the so-called vertiports – to facilitate the operational start-up of this type of service in Rome, with a challenging timeline to launch the first commercial operations between Fiumicino airport and the city of Rome in 2024, maybe on an experimental basis, and to offer the option of flying taxis the very same year. According to the plan, this maiden commercial route would be among the world's first to take advantage of Urban Air Mobility. This is a perfect synthesis of our commitment to two key strategic objectives, sustainability and innovation, which we also prioritise in our infrastructure projects for the airport of the future."
"Leveraging Leonardo's expertise in manned and unmanned air traffic management platforms, we can pose ourselves as one of Aeroporti di Roma's key technological partners in the highly challenging sector of Advanced Air Mobility. In the future, thanks to the progressive implementation of new technologies, this will allow for more agile, faster and sustainable travel in complete safety," stated Laurent Sissmann, Senior Vice President Unmanned Systems at Leonardo.
Leonardo is the only company in Europe that is able to supply not only complete remote-piloted intelligence, surveillance, environmental monitoring and information acquisition missions, integrating platforms, radar and electro-optical sensors, mission systems and ground control station solutions – designing and developing every single element of a drone based system – but also solutions for air traffic control and airport management, ranging from weather radar to secure airport communications technologies.