New multi-domain connectivity, high resilience, and low observability are the main factors guiding the development and future evolutions of Leonardo's airborne communication systems. In the sector for more than 50 years, Leonardo offers a range of products that meet the most challenging requirements. The portfolio includes HF/VHF/UHF radio and the most sophisticated L-band, C-band, Ku-band and Ka-band data links with voice and data communication capabilities for Line of Sight (LoS) - measurable in hundreds of kilometres for an aircraft in flight - and Beyond Line of Sight (BLoS) applications. Added to these are crypto devices that are either stand-alone or built into secure on-board intercommunication equipment and systems.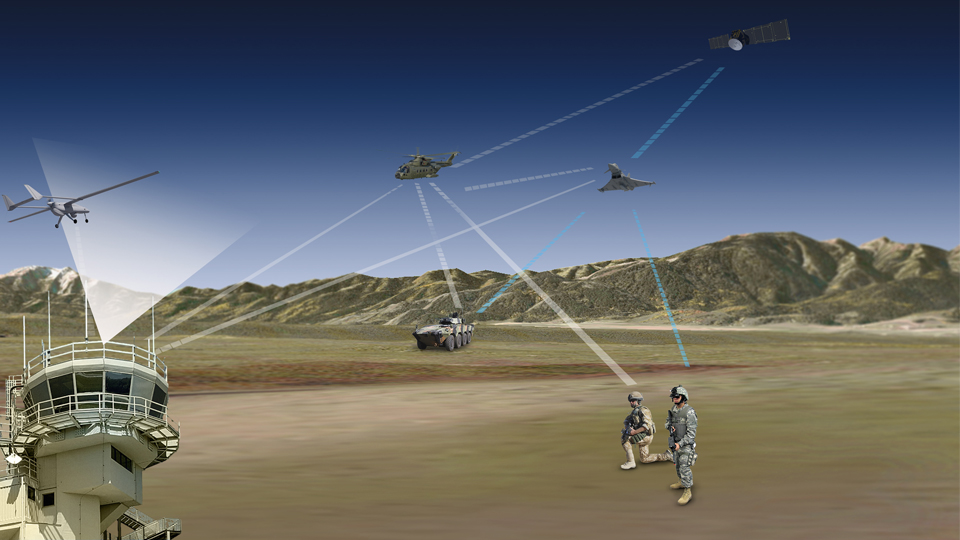 New generation radio communications: Software Defined Radio
Drawing on the experience acquired as part the European Secure Software Defined Radio (ESSOR) project, Leonardo has developed its own advanced Software Defined Radio (SDR) technology that is "ITAR free", meaning it is easy to export. Developed in Italy at the Genoa and Pomezia plants and produced in Cisterna di Latina to meet the Software Communication Architecture (SCA) standard, the proprietary architecture of Leonardo's SDR radios allows the hardware platform (SWave®) to be separated from the software applications (SelfNet®), called waveforms, thus obtaining a flexible, efficient solution, with low Size Weight and Power (SWaP) consumption, that easily adapts to manned and unmanned, fixed and rotary-wing aircraft. In this way, the hardware becomes the root element for hosting existing and future waveforms. Leonardo also develops advanced waveforms guaranteeing excellent performance and interoperability.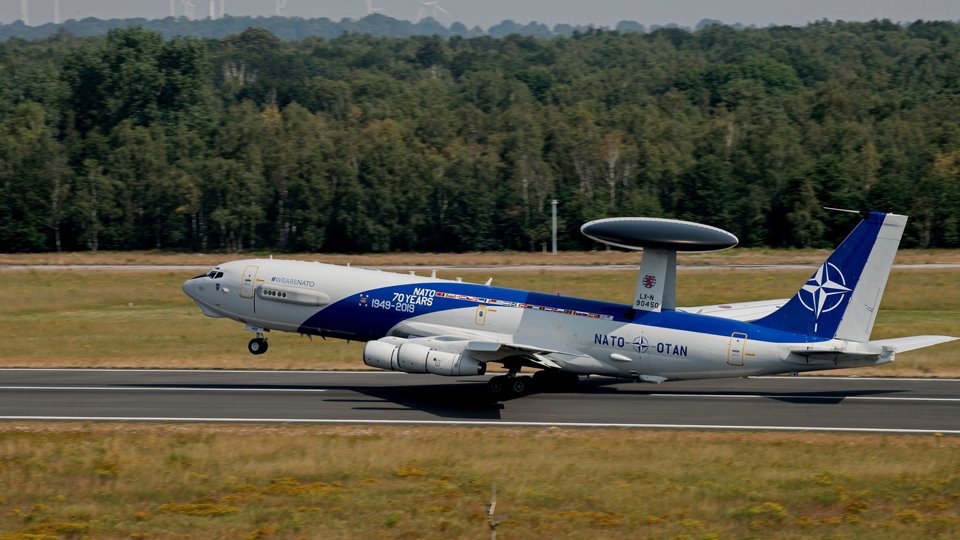 The company's flagship product in the airborne communications sector is the compact, multi-band and multi-waveform SRT-800 radio, which has been integrated on NATO's fleet of Airborne Warning and Control System (AWACS) aircraft since 2021. There are 6 SDR SRT-800s on each of the 14 E-3A aircraft, ensuring all of their voice and data communications, as well as secure and cyber-resilient tactical communications. A single SRT-800 can replace traditionally separate units, including UHF/VHF radio, SATCOM, SINCGARS and a crypto device.
Leonardo's airborne communications systems are also found on the V-22 OSPREY tiltrotor, which features the HF SRT-200 transceiver for voice and data radio communications equipped with a custom antenna, and on the U.S. Navy's E-2D HAWKEYE airborne warning and control aircraft, which boasts the HF SRT-400 radio – without forgetting the back-up radio of the F-35 fleet.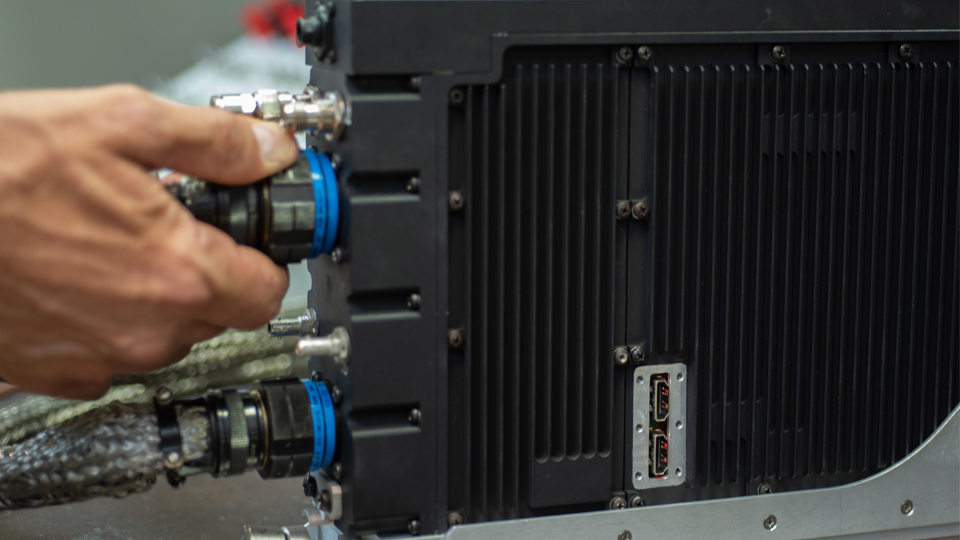 Increasingly digital connectivity
The company is also active in the data link field, as evidenced by the Ku-band, high-performance Wide Band Data Link with a maximum data transmission speed of up to 44 Mb/s, installed on NATO's remotely-piloted Global Hawk aircraft. Another example are the tactical data links, such as L-band MIDS-LVT Link 16 developed as part of the EuroMIDS consortium, on-board several platforms to support multi-domain command and control applications.
In Italy and on a multi-national scale, Leonardo's communications systems are integrated in the company's new helicopter programmes and are on board its aircraft, as well as on Eurofighter Typhoon fighter aircraft, G550 CAEW (Conformal Airborne Early Warning) aircraft, and NH90 helicopters.
As they are compatible with the different waveforms used by NATO - such as Link 16, Link 22, SATURN, HAVEQUICK and SINGCARS - all the devices are interoperable, and they are certified according to the requirements for applications in which a high degree of security is necessary, including TEMPEST, COMSEC and COMPUSEC. Leonardo also directly implements encryption technologies - which can already be integrated in radios or offered as stand-alone equipment, like the family of CM-107 CM-109 CM117 crypto devices - and countermeasures to specifically protect communications from jamming.
A look to the future
Today, the new target is depicted by programmes such as the Global Combat Air Programme (GCAP) or the New Generation Rotorcraft. The scenarios in which these platforms will operate will demand a very high communication capability to guarantee connection in line with the multi-domain approach; communications that are resilient to jamming, in broadband to ensure rapid exchange of information, and based on low detection systems, for example electronic scanning arrays that allow the beam emissions to be pointed in only the desired direction, whether they are in radio frequency or of the laser type.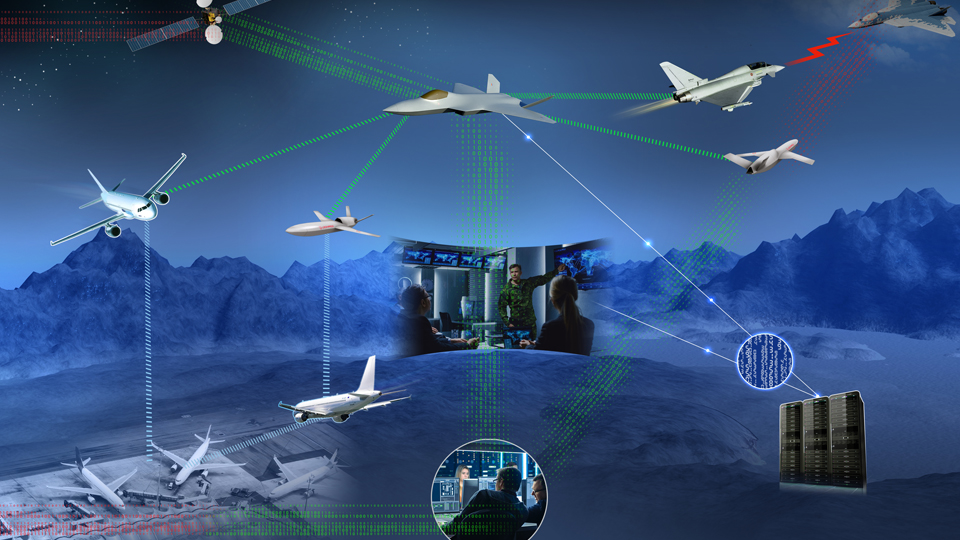 In the latter context, as part of GCAP, the company is working on an Intra Flight Data Link that combines low observance/detection of communications with high transmission capacity.
When developing new communication systems, it is also important to emphasise the role that some of Leonardo's innovative infrastructures play. On the one hand, there is the computing power of the davinci-1 supercomputer and, on the other, there is the Turin Battle Lab. Through digital twinning, the Battle Lab can simulate avionic networks of the future, "immersive planning" technologies and - with the aid of artificial intelligence - decision-making support. In this context, managing the spectrum in scenarios increasingly congested due to the presence of network radio frequency conflicts and "electronic pollution" becomes crucial for the mission's outcome.